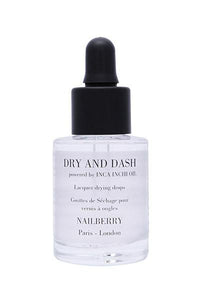 Polish Drying Time Accelerator 
Achieve a smudge-free finish in a fraction of the time while also enhancing the effects of your manicure with our drying drops. Simply ideal when time is of the essence, our unique blend of volatiles and oils both accelerates drying time and prevents scuffs or chips.
Enhanced with richly nourishing Inca Inchi Oil and antioxidant-rich Vitamins A and E, this breathable, vegan-friendly formula also leaves nails and cuticles beautifully revitalised.