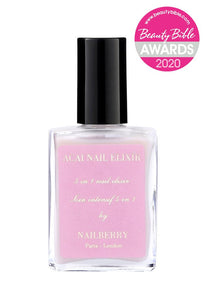 5-in-1 Base Coat and Treatment

Strengthen, nourish and protect nails with our powerful 5-in-1 base coat and treatment. Fortified with nourishing oils and antioxidant-rich actives, this breathable formula actively repairs and regenerates dry or damaged nails. Say hello to a healthier manicure!
1. Harden & Strengthen – contains a patented active to improve nail condition and reduce breakage, plus a synergistic botanical blend to reinforce and strengthen the nail bed.
2. Boost Growth – fortified with Amino Acids to energise and stimulate nail growth.
3. Hydrate & Nourish – enriched with Argan and Baobab Oils to actively hydrate and nourish nails.
4. Protect – with renowned antioxidants Acai Berry, Violet Extracts and Vitamin E.
5. Conceal & Smooth – features light minerals to fill ridges and subtle colour to conceal nail imperfections.
Vegan. 12 Free